Hard disk failure is imminent что делать
SSD сдох?
Тема в разделе "Компьютерная помощь по остальным вопросам", создана пользователем boratka, 30 Jun 2018 в 14:24 .
Оценить пост #
boratka
значит столкнулся я сегодня с такой проблемой, что компьютер не запускается и вылезает сообщение "WARNING: please backup your data and replace your hard disk drive, a failure may be imminent.." и там показывало мой ССД на котором стояла винда, в итоге с горем пополам я запустил пк и решил проверить ССД на ошибки и его статус, вот че вышло:
Как он мог так быстро умереть? 11 месяцев всего лишь
P.S сорри, не знаю как здесь правильно картинки вставлять
UPD. Проблема решена
m0onlight
Ну как бы там все в скринах написано, конец ссдшке)
boratka
Ну как бы там все в скринах написано, конец ссдшке)
ну это я вроде как понимаю, но в чем прикол, почему там мало проработал? даже года нет
вообщем, надо было брать от самсунга
m0onlight
что за ссд у тебя?
ну это я вроде как понимаю, но в чем прикол, почему там мало проработал? даже года нет
Как ты его использовал?
Ясно. Вот почему их не советуют
Zubastiy
The_13abyKnight
значит столкнулся я сегодня с такой проблемой, что компьютер не запускается и вылезает сообщение "WARNING: please backup your data and replace your hard disk drive, a failure may be imminent.." и там показывало мой ССД на котором стояла винда, в итоге с горем пополам я запустил пк и решил проверить ССД на ошибки и его статус, вот че вышло:
Как он мог так быстро умереть? 11 месяцев всего лишь
P.S сорри, не знаю как здесь правильно картинки вставлять
а в чем собственно дело? у каждого ссд есть ресурс записи, чем дешевле ссд, тем меньше этого ресурса
даже в характеристиках есть параметр TBW
ты свой исчерпал
нужно читать характеристики, перед тем как покупать TLC ссд под активное юзание
doppelganger_
ну вообще странно 8к часов работы 800+ включений и 1%
Сколько циклов перезаписи тогда было
boratka
ничего особенного, винда, несколько прог, две-три игры
m0onlight
Сколько лет ссд?
Вы вообще скрины не открываете?)
roamingLoneDruid
так сдай по гарантии , на них вроде 3 года дают от производителя
boratka
а в чем собственно дело? у каждого ссд есть ресурс записи, чем дешевле ссд, тем меньше этого ресурса
даже в характеристиках есть параметр TBW
ты свой исчерпал
нужно читать характеристики, перед тем как покупать TLC ссд под активное юзание
ну он не прям уж и дешевый, для 120гб 2000грн вроде норм
m0onlight
ничего особенного, винда, несколько прог, две-три игры
Ну в плане мб ты каждую неделю переустанавливал игры винду etc.?
Просто этот ссд подходит для статическго использования, т.е. просто записать туда допустим шиндоус и дрова и больше не трогать его, т.к. ресурс(перезаписи) у дешевых ТЛС ссд достаточно малый.
Как ты его использовал?
у меня Intenso TOP SSD 128GB, надеюсь проживет дольше
чокопай
ну он не прям уж и дешевый, для 120гб 2000грн вроде норм
помойка соре, от самсунга брать нужно было
m0onlight
ну он не прям уж и дешевый, для 120гб 2000грн вроде норм
Попробуй по гарантии сдать, чет слишком мало он жил, во всяком случае если откажут назовут точную причину что с ним и в чем проблема.
boratka
Ну в плане мб ты каждую неделю переустанавливал игры винду etc.?
Просто этот ссд подходит для статическго использования, т.е. просто записать туда допустим шиндоус и дрова и больше не трогать его, т.к. ресурс(перезаписи) у дешевых ТЛС ссд достаточно малый.
та нет, винду один раз на него как записал, так она и стоит, ну понятно к играм обновы из стима приходят и тд, но у знакомого точно такая же ситуация, сдд немного дешевле и ничего, норм служит уже 3й год
Попробуй по гарантии сдать, чет слишком мало он жил, во всяком случае если откажут назовут точную причину что с ним и в чем проблема.
Как исправить SMART ошибку жесткого диска или SSD
Последовательность действий при наличии S.M.A.R.T. ошибки жесткого диска или SSD. Как исправить диск и восстановить утерянные данные. При загрузке компьютера или ноутбука появляется S.M.A.R.T. ошибка жесткого диска или SSD? После данной ошибки компьютер не работает как прежде, и вы опасаетесь о сохранности ваших данных? Не знаете как исправить ошибку?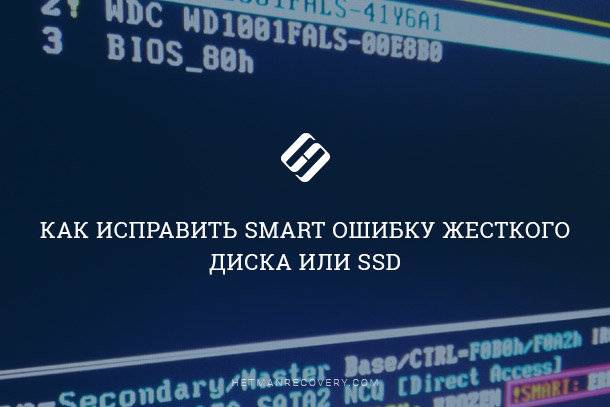 Актуально для ОС: Windows 10, Windows 8.1, Windows Server 2012, Windows 8, Windows Home Server 2011, Windows 7 (Seven), Windows Small Business Server, Windows Server 2008, Windows Home Server, Windows Vista, Windows XP, Windows 2000, Windows NT.
Что делать со SMART ошибкой?
Шаг 1: Прекратите использование сбойного HDD
Получение от системы сообщения о диагностике ошибки не означает, что диск уже вышел из строя. Но в случае наличия S.M.A.R.T. ошибки, нужно понимать, что диск уже в процессе выхода из строя. Полный отказ может наступить как в течении нескольких минут, так и через месяц или год. Но в любом случае, это означает, что вы больше не можете доверить свои данные такому диску.
Необходимо побеспокоится о сохранности ваших данных, создать резервную копию или перенести файлы на другой носитель информации. Одновременно с сохранностью ваших данных, необходимо предпринять действия по замене жесткого диска. Жесткий диск, на котором были определены S.M.A.R.T. ошибки нельзя использовать – даже если он полностью не выйдет из строя он может частично повредить ваши данные.
Конечно же, жесткий диск может выйти из строя и без предупреждений S.M.A.R.T. Но данная технология даёт вам преимущество предупреждая о скором выходе диска из строя.
Шаг 2: Восстановите удаленные данные диска
В случае возникновения SMART ошибки не всегда требуется восстановление данных с диска. В случае ошибки рекомендуется незамедлительно создать копию важных данных, так как диск может выйти из строя в любой момент. Но бывают ошибки при которых скопировать данные уже не представляется возможным. В таком случае можно использовать программу для восстановления данных жесткого диска – Hetman Partition Recovery.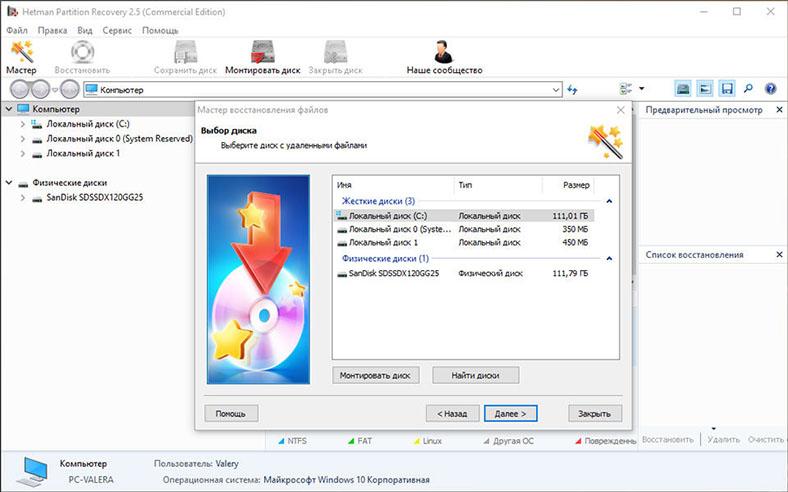 Загрузите программу, установите и запустите её.
По умолчанию, пользователю будет предложено воспользоваться Мастером восстановления файлов. Нажав кнопку «Далее», программа предложит выбрать диск, с которого необходимо восстановить файлы.
Дважды кликните на сбойном диске и выберите необходимый тип анализа. Выбираем «Полный анализ» и ждем завершения процесса сканирования диска.
После окончания процесса сканирования вам будут предоставлены файлы для восстановления. Выделите нужные файлы и нажмите кнопку «Восстановить».
Выберите один из предложенных способов сохранения файлов. Не сохраняйте восстановленные файлы на диск с ошибкой.
Шаг 3: Просканируйте диск на наличие «битых» секторов
Запустите проверку всех разделов жесткого диска и попробуйте исправить найденные ошибки.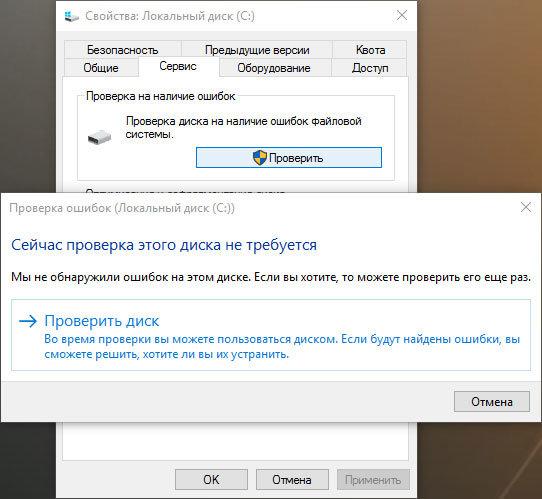 Для этого, откройте папку «Этот компьютер» и кликните правой кнопкой мышки на диске с SMART ошибкой. Выберите Свойства / Сервис / Проверить в разделе Проверка диска на наличия ошибок.
В результате сканирования обнаруженные на диске ошибки могут быть исправлены.
Шаг 4: Снизьте температуру диска
Иногда, причиной возникновения "S M A R T" ошибки может быть превышение максимально допустимой температуры работы диска. Такая ошибка может быть устранена путём улучшения вентиляции компьютера. Во-первых, проверьте оборудован ли ваш компьютер достаточной вентиляцией и все ли вентиляторы исправны.
Если вами обнаружена и устранена проблема с вентиляцией, после чего температура работы диска снизилась до нормального уровня, то SMART ошибка может больше не возникнуть.
Шаг 5: Произведите дефрагментацию жесткого диска
Откройте папку «Этот компьютер» и кликните правой кнопкой мышки на диске с ошибкой. Выберите Свойства / Сервис / Оптимизировать в разделе Оптимизация и дефрагментация диска.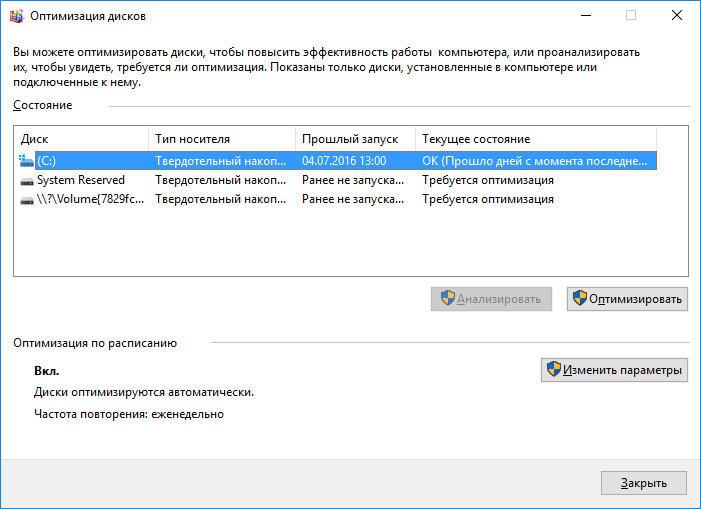 Выберите диск, который необходимо оптимизировать и кликните Оптимизировать.
Примечание. В Windows 10 дефрагментацию и оптимизацию диска можно настроить таким образом, что она будет осуществляться автоматически.
Шаг 6: Приобретите новый жесткий диск
Если вы столкнулись со SMART ошибкой жесткого диска то, приобретение нового диска – это только вопрос времени. То, какой жесткий диск нужен вам зависит от вашего стиля работы за компьютером, а также цели с которой его используют.
На что обратить внимание приобретая новый диск:
Тип диска: HDD, SSD или SSHD. Каждому типу присущи свои плюсы и минусы, которые не имеют решающего значения для одних пользователей и очень важны для других. Основные из них – это скорость чтения и записи информации, объём и устойчивость к многократной перезаписи.
Размер. Два основных форм-фактора дисков: 3,5 дюймов и 2,5 дюймов. Размер диска определяется в соответствии с установочным местом конкретного компьютера или ноутбука.
Интерфейс. Основные интерфейсы жестких дисков:

SATA;
IDE, ATAPI, ATA;
SCSI;
Внешний диск (USB, FireWire и.т.д.).

Технические характеристики и производительность:

Вместимость;
Скорость чтения и записи;
Размер буфера памяти или cache;
Время отклика;
Отказоустойчивость.

S.M.A.R.T. Наличие в диске данной технологи поможет определить возможные ошибки его работы и вовремя предупредить утерю данных.
Комплектация. К данному пункту можно отнести возможное наличие кабелей интерфейса или питания, а также гарантии и сервиса.
Как сбросить SMART ошибку?
SMART ошибки можно легко сбросить в BIOS (или UEFI). Но разработчики всех операционных систем категорически не рекомендуют этого делать. Если же для вас не имеют ценности данные на жестком диске, то вывод SMART ошибок можно отключить.
Для этого необходимо сделать следующее:
Перезагрузите компьютер, и с помощью нажатия указанной на загрузочном экране комбинации клавиш (у разных производителей они разные, обычно "F2" или "Del") перейдите в BIOS (или UEFI).
Перейдите в: Аdvanced >SMART settings >SMART self test. Установите значение Disabled.
Примечание: место отключения функции указано ориентировочно, так как в зависимости от версии BIOS или UEFI, место расположения такой настройки может незначительно отличаться.
Целесообразен ли ремонт HDD?
Важно понимать, что любой из способов устранения SMART ошибки – это самообман. Невозможно полностью устранить причину возникновения ошибки, так как основной причиной её возникновения часто является физический износ механизма жесткого диска.
Для устранения или замены неправильно работающих составляющих жесткого диска, можно обратится в сервисный центр специальной лабораторией для работы с жесткими дисками.
Но стоимость работы в таком случае будет выше стоимости нового устройства. Поэтому, ремонт имеет смысл делать только в случае необходимости восстановления данных с уже неработоспособного диска.
SMART ошибка для SSD диска
Даже если у вас не претензий к работе SSD диска, его работоспособность постепенно снижается. Причиной этому служит факт того, что ячейки памяти SSD диска имеют ограниченное количество циклов перезаписи. Функция износостойкости минимизирует данный эффект, но не устраняет его полностью.
SSD диски имеют свои специфические SMART атрибуты, которые сигнализируют о состоянии ячеек памяти диска. Например, "209 Remaining Drive Life", "231 SSD life left" и т.д. Данные ошибки могут возникнуть в случае снижения работоспособности ячеек, и это означает, что сохранённая в них информация может быть повреждена или утеряна.
Ячейки SSD диска в случае выхода из строя не восстанавливаются и не могут быть заменены.
Ошибка SMART исправлена? Оставляйте отзывы и задавайте ваши вопросы в комментариях.
Best Practice for Hard Disk Failure is Imminent Error
November 14, 2019
What should you do when getting hard disk failure is imminent warning in your Windows 10/8/7 computers? The best practice is to backup failing hard drive and replace it if possible.
AOMEI Backupper
An easy-to-use and versatile tool offers data backup, files sync, disaster recovery, and disk clone solutions.
Key Features
Files Backup
Backup specified files to local disks, external drives or NAS/network share.
System Backup
Create a system image to protect Windows, settings, apps and boot files.
File Sync
Automatically sync files with a schedule or in real-time without delay.
Disk Clone
Clone a disk to another with larger or smaller capacity for data migration.
System Restore
Restore computer to previous state from a system backup image in minutes.
AOMEI Freeware
User Say
I wish to inform you that AOMEI Backupper is the best software I have used previously. Thank you so much for this free backup software.
I recently found your Windows system/data backup software-AOMEI Backupper- and I must say, this is by far the best I have tried in the last 6 months.
AOMEI Backupper is awesome. Its team solved ttough problem for me. I think it is a unique and personal software belonging to me.
Tips: When you receive this error message, the bad news is your hard disk will fail sooner or later, the good news is you can use Free Backup Software to backup it in case of data loss.
The Scenario
"I have a HP Pavilion Notebook PC over 3 years old running Windows 7. I turned on my computer this morning and I got a warning during boot saying: Hard disk failure is imminent, and advises me to backup your hard disk and have it replaced! Press F10 for Setup, F2/F1 to continue. How can I fix this error?"
The warning message may be various based on different brands of computer and motherboards. The one you get may be "SMART failure predicted on hard disk". Before fix the error, you may ask how computer know hard disk failure is imminent.
SMART stands for Self-Monitoring Analysis and Reporting Technology which is a firmware that resides into most modern hard disks (HDD) and solid-state drives (SSD) to continuously keep track of hard disk condition such as health, performance and error rates, and reports the problems to system. Then, what does hard drive imminent failure mean?
SMART uses a technology known as predictive failure analysis to warn you a hard drive failure is imminent, not an actual failure. The hard drive in your computer right now is not yet dead, but will be sooner or later. Could be in 1 hour, could be in a week. Who knows? Therefore, it is best to do something, just in case the hard disk failure does happen to you.
A SMART hard drive failure warning may come out for many different factors such as bad sectors, higher temperature, physical damage, etc. Then, how to fix?
The Best Practice
Hard disk failure is a fact of life in the computer world. It's something many of us have experienced, and not with fond memories. As the SMART tell you: "Please backup your hard disk and have it replaced!" So let's follow its advice.
AOMEI Backupper Standard, a complete yet free backup software, lets you backup a hard disk to external hard drives, networked drives, NAS devices, USB flash drives. With AOMEI Backupper, you can easily restore system, programs and data on your hard drive that get damaged or deleted because of system crashes, hard disk failure or natural disasters, even when you cannot boot your Windows system.
The followings are step-by-step guide to walk you through the progress of backing up a hard disk that failure is imminent.
Step 1. Download, install and launch AOMEI Backupper. On the main window, select "Backup" -> "Disk Backup" as show below.
Step 2. Here you can choose the hard disk that reports failure is imminent and where to backup it. Also, you are allowed to configure disk backup settings by clicking "Backup Operations". Because you cannot predict the time of hard disk failure, it is highly recommended to click "Schedule" to set up automatic hard disk backup via daily, weekly or monthly.
Step 3. You are almost done. The last step is to click "Start Backup".
The Conclusion
The best practice for failing hard disk is that no matter whether you have got or will get hard drive failure imminent warning, backing up your hard disk regularly is a good habit to prevent system crash and data loss. Once the hard disk eventually failed, you can replace it with a new hard drive and perform disk restore. If your system will not allow you to boot into windows to create a backup, you can create a bootable media on other computers.
If you want to backup unlimited computers within your company, please choose AOMEI Backupper Technician. With the inbuilt AOMEI Image Deploy tool, you are also allowed to deploy/restore system image file on server-side computer to multiple client-side computers over network.
How to Fix Smart Failure Predicted on Hard Disk 0, 2, 4
Overview of Smart Failure Predicted on Hard Disk 0, 2, 4 Issue
"Recently, every time when I start my Dell laptop which runs Windows 7, it shows the error message: "Smart Failure Predicted on Hard Disk 0 : ST9640320AS – (S1)". But the Windows 7 boots normally and everything still works Well. So, what does it mean? What caused the error?"
What Is a Smart Failure
When getting 'Smart Failure Predicted on Hard Disk' error message, you may first ask what smart failure is. Here we will give you the answer. SMART (Self-Monitoring, Analysis, and Reporting Technology) is a self-diagnostic utility that is built into a hard drive (HDD) and solid-state drive (SSD) to continuously monitors drive condition such as performance and error rates and reports the results to the system. It uses a technology known as predictive failure analysis to tell you failure on the hard disk is imminent, not an actual failure.
Reasons and Common Cases
A 'Smart Failure Predicted on Hard Disk' error message usually comes with WARNING: IMMEDIATELY back up your data and replace your hard disk drive. A failure may be imminent. Press F1 to Continue.
It usually appears on Dell laptop, Sony Vaio, Lenovo ThinkPad and many other devices in Windows 7, 10 due to excessive bad sectors, shock, overheating, not defragmenting if your disk is almost full, wrong shutdown, etc.
How to fix or disable Smart Failure Predicted on Hard Disk on 0, 2, 4
'Smart Failure Predicted on Hard Disk' error suggests the hard disk in your computer will be dead soon, maybe in several days, in one week or in one month even it is not yet right now. So, you'd better repair smart hard drive failure issue as soon as possible just in case the possible disasters following the unexpected hard disk failure.
1. Back Up Data Before Repairing Smart Hard Drive Failure Issue
Download and launch EaseUS free backup software. Choose the right backup option.
Step 1. To back up an entire hard disk or simply its several partitions, the best backup plan is "Disk/Partition Backup". Choose this backup mode and let's begin.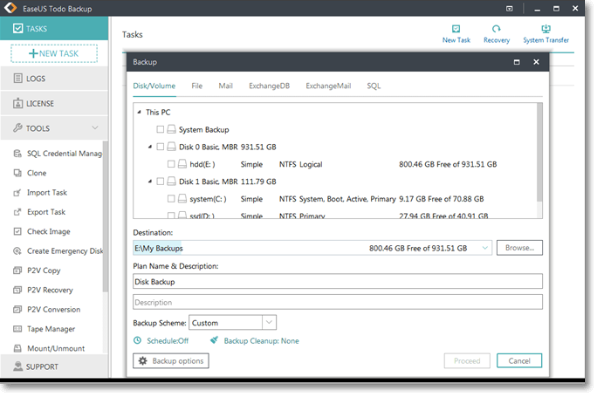 Step 2. On the popup window, choose the hard drive or partition(s) you're going to back up. A check symbol  appears after you clicked the mouse.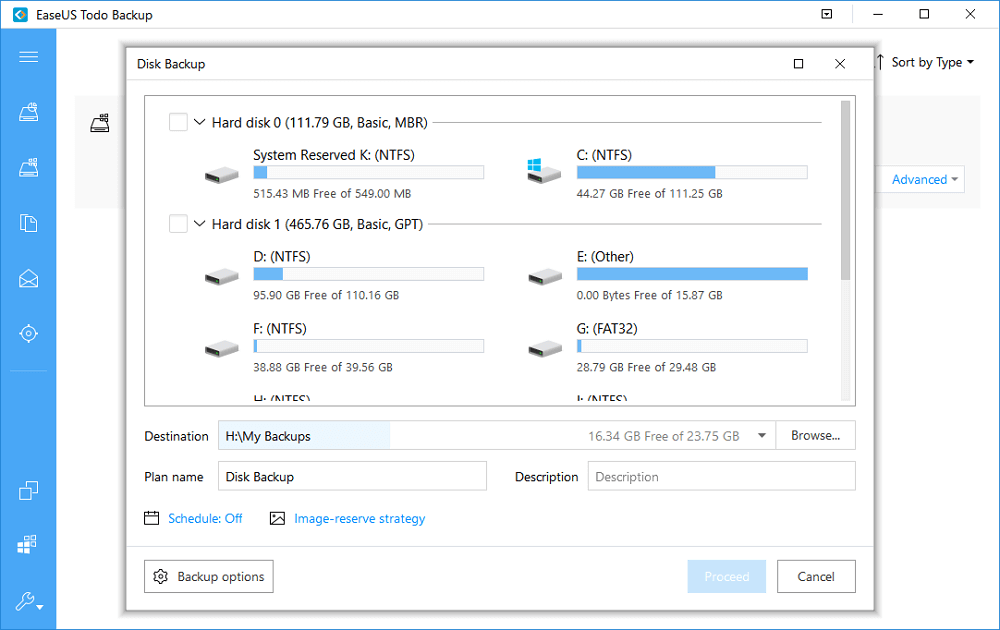 Step 3. Click the "Browse. " button in the "Destination" area to choose a backup location. Here, you can choose any location that is available to you, such as the local hard disk, folders, Network drive, NAS device or Cloud storage, including GoogleDrive, DropBox and OneDrive. You can explore all the connected drive by clicking the  icon in front of each directory.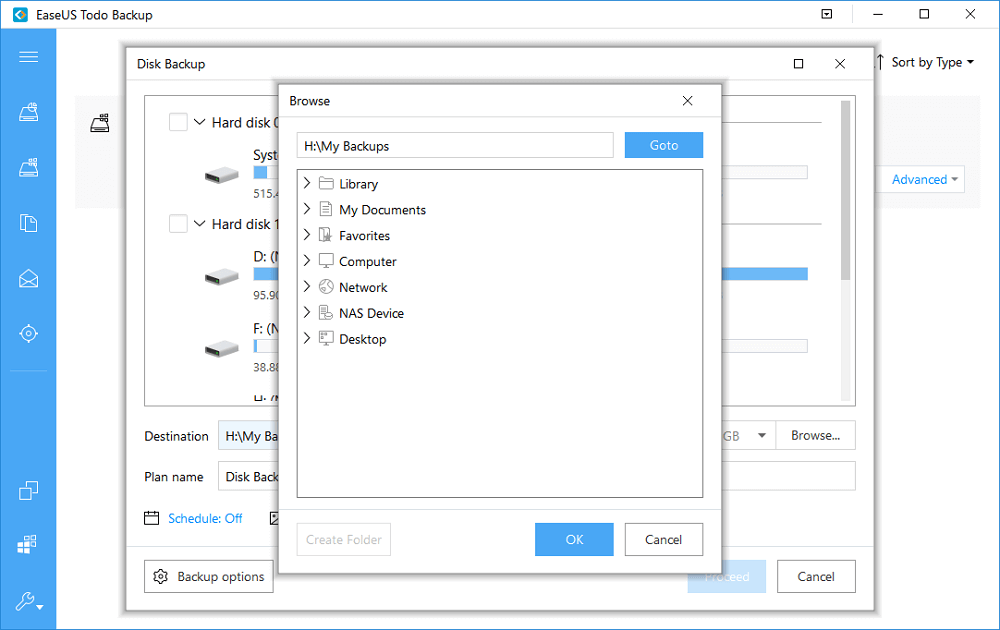 Step 4. Now edit your disk backup image by adding a "Plan name" and "Description" to it.
Do not forget the advanced backup plans in " ољі Backup options", where you can compress the backup image, encrypt the backup for privacy protection and even enable a sector by sector backup.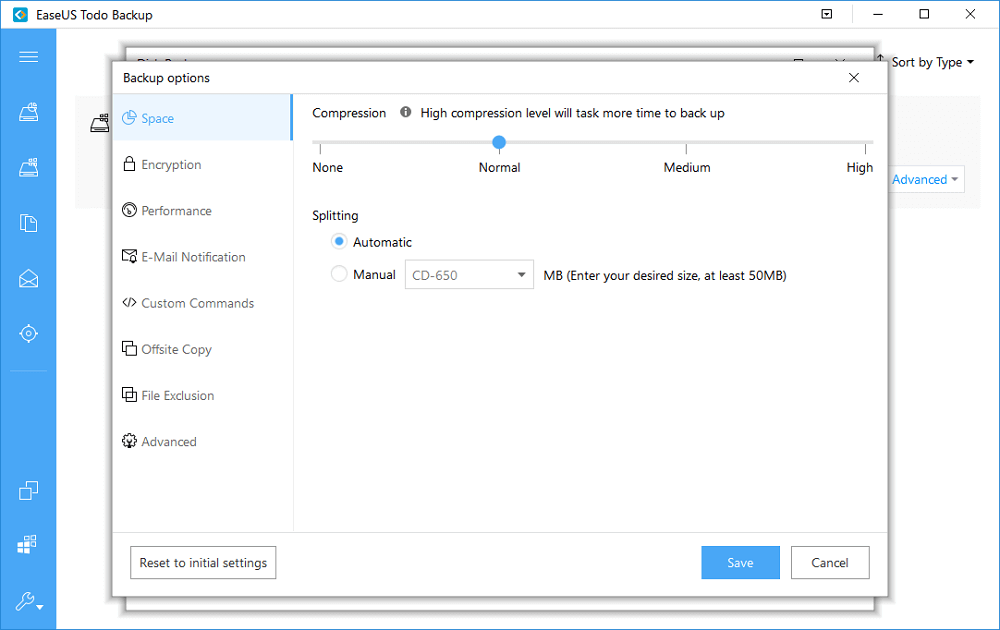 At the same time, you can turn on the "Schedule" in order to create a hard disk/partition backup on a regular basis like daily, weekly, monthly or upon an event according to the schedule set on your own.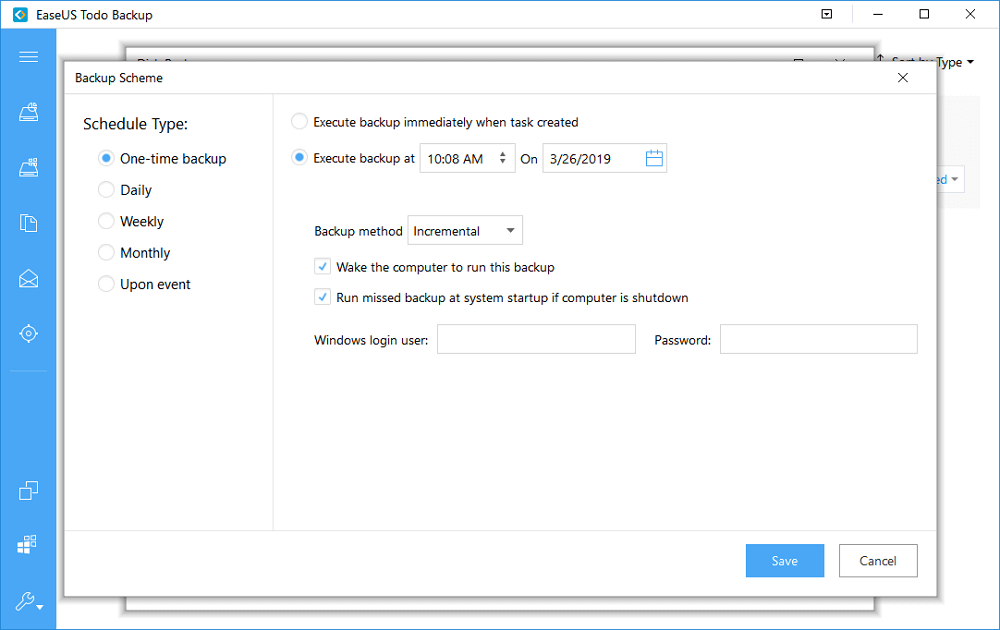 And the "Image-reserve strategy" lets you manage the increasingly growing backup images economically, you can preserve the backups in a setup time or quantity.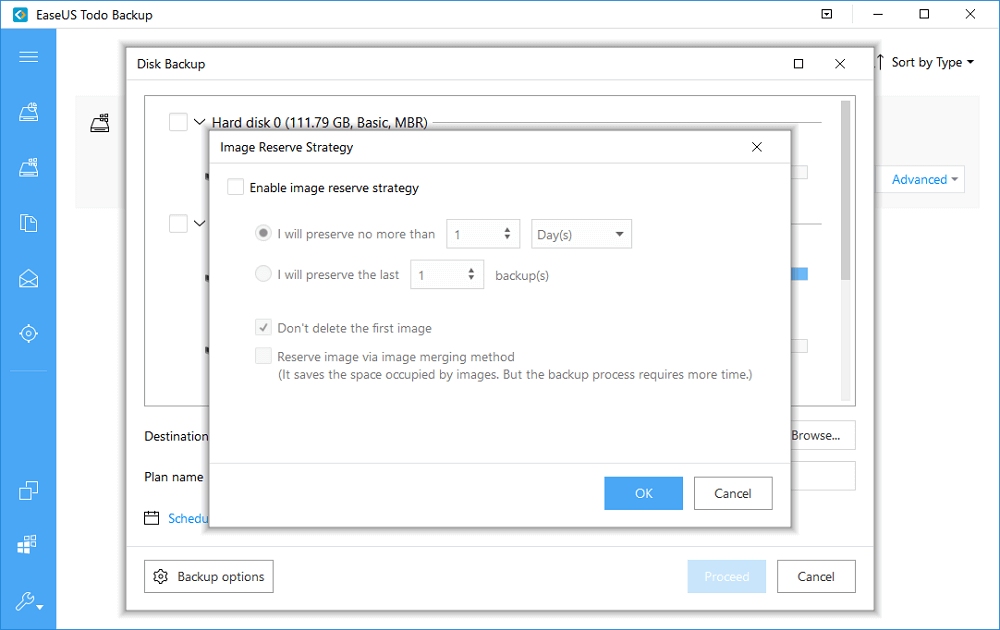 Step 5. Not all the customizable hard disk/partition backup solutions are necessary but try to make full use of the necessary ones. Finally, click "Proceed" to start at once.
For safety, disconnect the physical storage device you used as a backup drive after the backup process is over.
The program also allows you to clone disk in Windows 10. In this case, you can move to a new hard disk without Windows installation. It will save you all the tedious work to manually fix Smart Failure Predicted on Hard Disk on 0, 2, 4 issue.
2. Fix/Disable Smart Failure Predicted on Hard Disk
There are two ways you can apply.
Method 1. Run CHKDSK to check and Fix Bad Sectors
Step 1. In Windows 7, click "Start" -> "Computer", in Windows 10, click "File Explore".
Step 2. Right click on any one partition on the hard disk with SMART failure error.
Step 3. Select "Properties" -> "Tools" and hit "Check now" under the "Error-checking".
Step 4. Enable the "Automatically fix file system errors" and "Scan for and attempt recovery or bad sectors" options.
Step 5. Click on "Start" to begin the process.
If you check the partition that contains your Windows 7 or Windows 10 installation, you will be prompted to schedule disk check after the restart.
If you don't have any technical know-how and want to minimize data risks, using third-party software could be a better choice. The Command line is suitable for computer professionals since wrong commands can cause severe problems. Therefore, we strongly recommend you to try an automatic command line alternative.
EaseUS Tools M is a practical computer fixing tool that is safe and light-weighted. It's a perfect alternative to CHKDSK command. Use this one-click tool to solve your computer issues.
To fix file system error or disk error:
Step 1: оњљ DOWNLOAD EaseUS Tools M for Free and install it.
Step 2: Open the software and select "File Fixing" on the left pane.
On the right pane, choose the drive and check off the box at the bottom – "Check and fix file system error". Then, click "Fix" to start repairing the error.
Step 3: Wait until the operation completes. Wait until the operation completes. After the operation completes, click the "View" button to check the drive.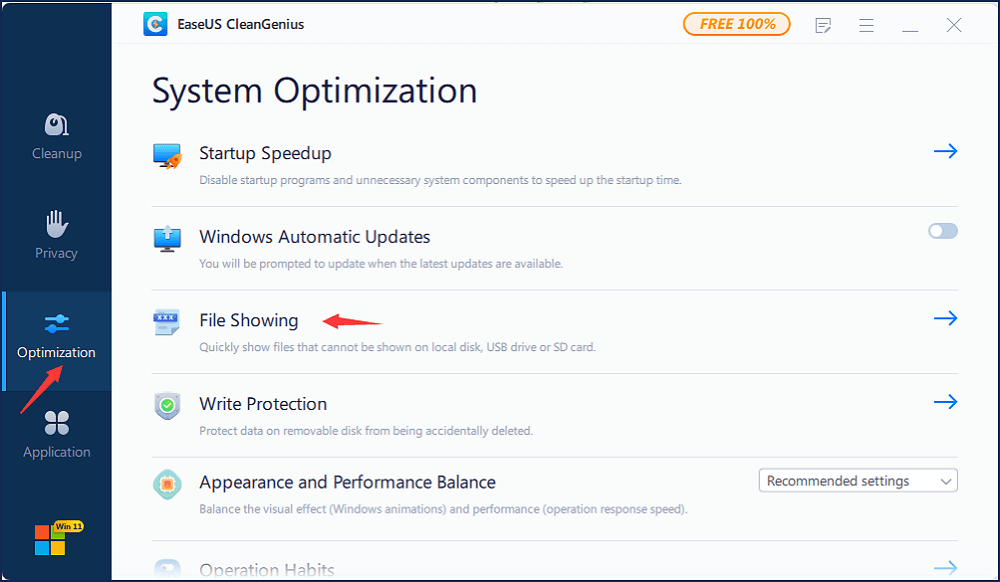 Method 2. Defragment Disk
It is common that a SMART hard drive failure warning is according to disk fragmentation, and can sometimes be repaired by defragmenting disk.
Step 1. Click the "Start" button.
Step 2. In the search box, type Disk Defragmenter and then select "Disk Defragmenter" in the list of results.
Step 3. Select the drive you want to defragment and click "Defragment Disk".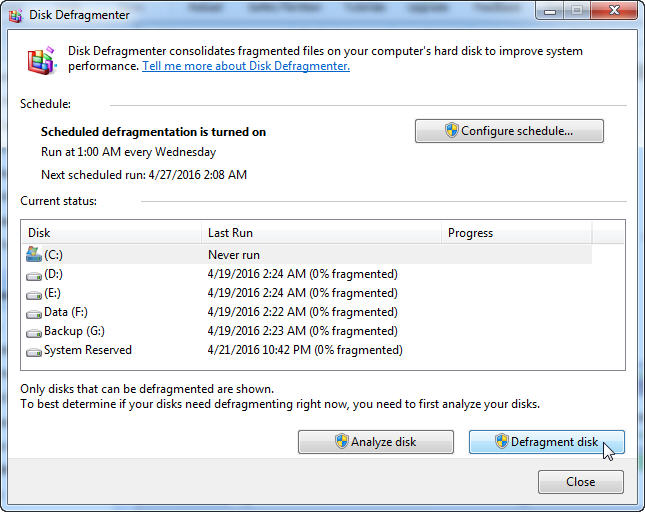 These are all the possible solutions that might help to fix or disable Smart Failure Predicted on Hard Disk on 0, 2, 4 issue. Try them one by one to repair smart hard drive failure when the issue occurs on Dell laptop, Sony Vaio, Lenovo ThinkPad and other devices in Windows 7, 10 with ease.
100 % of people found this article helpful.
Frequently Asked Questions
"The easiest way to protect your data and system files." —techradar
"EaseUS Todo Backup Free is one of the most popular free data backup applications available. This software offers a myriad of features and is extremely user-friendly. It provides a full system backup, meaning you can back up your entire operating system." —TopTenReviews
"EaseUS ToDo Backup Home is a great backup program, well suited to the home and SMB space." —PCWorld
What is the difference between Clone and Backup? In what cases should I use Clone?
Clone will copy one disk to another or one partition to another (unallocated space is also supported). Usually, this option is used to upgrade the current disk by creating an identical copy. Backup will generate a .PBD image file containing the selected files or system that can be restored from the .PBD image if needed.
What is the difference between System Backup and Disk Backup?
System Backup will auto-select the system boot related partition(s) as the backup source to make sure the system image can be restored properly. Disk/Partition Backup will allow you to manually select a whole disk or speficy a certain partition as the backup source. You will get the same backup result as System Backup if you manually select the system and boot partitions with the Disk/Partition Backup option.
As a computer newbie, what features should I use to protect my computer?
You can use System Backup to back up the system and boot partitions, use Disk/Partition backup to back up the data partition and add plans to run an automatic backup. If you use the computer frequently or have software that may cause boot failure of the computer, we would suggest you back up the computer every 1 to 2 days. For other situations, you can backup the computer once a week. In addition, you can schedule File Backup to back up the files which are changed frequently.
What kind of storage service should I use to save my backup images?
EaseUS Todo Backup can save backup images to internal disks, external disks, network drives, or free cloud(Google Drive, Dropbox, and OneDrive) and CD/DVD. It is suggested to save the images to the internal/external/network drives to save time as those kinds of disks have a better read-write speed. It is suggested NOT to save the image on the source disk, because once the disk is damaged, all the files on the disk will become unavailable and you will be unable to restore the image.
As a company network administrator, what features should I use to protect our internal computers?
It is recommended that you use the SQL Backup feature to back up your company's SQL server and Exchange Backup feature to back up the Exchange server. In addition, you can execute System Backup to back up the system and boot partitions on every computer and set a plan to execute the backup once a day or twice a week to ensure that the computer can be restored timely when it has boot issues. File Backup feature can be used to back up important user data. If there are a large quantity of computers, you can purchase EaseUS Backup Center to manage the backups on the client computers centrally.
Cedric Grantham / 2019-01-11
Tracy King / 2016-07-01
Jean / 2018-03-23
Abby Haines / 2015-12-17
About EaseUS Todo Backup
Be it a file, system, partition, or disk, EaseUS Todo Backup will help you back up or clone the item and provide you with multiple backup plans.
Hard Disk Failure Is Imminent! What Do I Do?
"Hard Disk Failure Is Imminent" is a message you want to take very seriously — so seriously that hopefully, you'll have planned for it beforehand.
I'm sorry to say it's very possible that you are S.O.L.: Severely Out of Luck.
I'll run down what I suspect is happening, what I would do in your situation, and additional options you might have.
And, of course, I'll review how you could have prevented this in the first place.
Become a Patron of Ask Leo! and go ad-free!
Hard Disk Drive [HDD]
This message means exactly what it says: the diagnostic and status circuitry and/or firmware on your drive has detected that the hard drive is about to fail — soon. In this case, "fail" can mean anything from "you might lose a few files" to "the entire drive will stop working."
Honestly, you're lucky you got a warning at all. More commonly, drives simply fail in some fashion without notice. There is no guarantee you'll be warned.
All that means is that you need to take this message very seriously as soon as you see it.
What I would do
I'm going to assume you're reaching out for data recovery help because there's important data on that drive that isn't backed up elsewhere. I'll talk more about that in a moment, but for now our focus is on getting what we can off the drive.
The fact that some of the files are encrypted complicates matters. With unencrypted files, partial recovery can still be valuable. Encrypted files, on the other hand, are often all or nothing. In addition, when Windows' built-in encryption
In a situation like this, where preserving and recovering the contents of an entire hard drive is the goal, my mind turns to SpinRite. In your shoes, I would see if I could get SpinRite to run on this hard drive and possibly recover the contents of the damaged sectors.
A couple of caveats, however:
SpinRite hasn't been updated in ages, but it's apparently still working well.
You'll need to be able to boot from SpinRite's CD image.
SpinRite is not free. (But they'll refund if it fails to recover your data.)
Depending on the size of and damage to your drive, SpinRite can take a very long time.
There's no guarantee your data will be recovered.
But that's where I'd go first.
If it's important enough
If SpinRite can't do the trick or it's simply too intimidating (it is kinda geeky), your options are few.
If the data on the hard drive is important enough — meaning it's worth money to you — your next option would be a data recovery service. I say "worth money" because that's exactly what it's going to take to have such a service examine the disk and do what they can. It can be very expensive.
And once again, there's no guarantee your data will be recovered.
Perhaps it's worth it, depending on what you're about to lose otherwise.
I have no recommendations, as it's never been worth it me. It's never been necessary, and you can probably guess why.
Hard drives fail
Hard drives fail all the time. They just do. Oh, you can go for years without experiencing it, but then suddenly you see "Hard disk failure is imminent", or worse.
You must prepare, and preparation is simple: back up.
If you'd had a backup of your data taken prior to the hard drive's imminent failure, you would simply replace the drive, recover the data from backup, and get on with your life. It would be that simple.
I have lots of different articles on how to back up — the links below only touch the tip of the iceberg. It's something I preach about and write about often, specifically because of stories like yours.
You see, based on what you've told me, I don't think you're getting your data back. I hope I'm wrong, but the scenario you outline all too often ends with "…and then I lost everything."
And that just doesn't have to be.
Whether or not you get your data back, please, please learn from this experience and begin backing up right now.
Podcast audio
Related Posts
How Do I Fix Errors on My Hard Disk? – Hard disk errors come from several different sources, and as a result there are several different approaches to resolving them.
How Do I Fix "Invalid System Disk" Error? – An "invalid system disk" error has several possible causes. Two of them will make you hope you backed up recently.
How Should I Back Up an Encrypted Hard Disk? – Backing up an encrypted hard drive shouldn't be difficult, but it's important to understand what you'll get.
NAS Drive Failure: How I Dodged a Bullet – I had an impending NAS drive failure. I'll share how I got there, the mistakes I made, the things I did right, and the lessons I learned.
New Here?
Of course I strongly recommend you search the site — there's a ton of information just waiting for you.
Finally, if you just can't find what you're looking for, ask me!
Leo Who?
35 comments on "Hard Disk Failure Is Imminent! What Do I Do?"
Spinrite – urgh. Sorry, Leo, but that's shockingly bad advice. Spinrite should absolutely NOT be used in instances such as this as it's very likely to cause further damage to the drive, perhaps the data that's on it permanently irrecoverable. The correct approach would be to either use a data recovery services – DriveSavers, Ontrack – or, if that's not an option, DIY it with tools that are actually designed to do the job.
Wow. I've never once heard of SpinRite actually causing further damage. In fact I've had it successfully recover data on more than one occasion. Granted, a data recovery service is the ultimate best shot, but when faced with the cost, especially if the alternative is giving up, I still believe SpinRite to be a viable option. (PS: I'd love to hear your recommendations for the DIY tools you mention.)
"SpinRite attempts to recover data from hard disks with damaged portions that may not be readable via the operating system. When the program encounters a sector with errors that cannot be corrected by the disk drive's error-correcting code, it tries to read the sector up to 2000 times….."
Hammering an already ailing HDD with tens of thousands of read requests is absolutely that the last thing you want to do as it may very well kill the drive and cause permanent data loss (it's also worth noting that rereading sectors over and over is completely pointless: if a sector cannot be read on the 1st attempt, it's not going to be read on the 2nd, 3rd or 2,000th attempt).
When working with a sickly HDD, best practice is to subject it to minimum stress (which Spinrite absolutely does not do), while cloning it as quickly as possible and then working with the copied data. As for DIY tools, GNU ddrescue is a pretty good starting point:
I'll disagree with the "completely pointless" on re-reads. Your OS already does it. Even the tool you reference does it. As I understand it, SpinRite also tries various techniques that, as best I can describe it, attempt to vary the way the head approaches the potentially damaged sector, which results in micro-changes in position that sometimes allow more of the data to be read. It also uses what data it CAN read — even in failed attempts — collecting it to perform a best-effort average of what the data looks like so as to return something that stands a chance of approaching the original content. Is it right for every situation? Of course not. But I've got no problem with it reading (and only reading) in situations where a potentially damaged sectors on my hard drive in an attempt to recover the data. (Do not confuse SpinRite's conditioning operations — which absolutely hammer the disk — with the read/recovery operation.)
Thanks for the Linux tool link. Agree it's another tool for the arsenal, and has the additional advantage of being entirely free.
"As I understand it, SpinRite also tries various techniques that, as best I can describe it, attempt to vary the way the head approaches the potentially damaged sector, which results in micro-changes in position that sometimes allow more of the data to be read." – Hard drives are designed to *never* return bad data. Unless the accuracy of the data can be 100% guaranteed, the drive will return an error and the angle of dangle of the read/write head has no bearing on that whatsoever. Back in the day, it was possible to disable error checking and instruct the drive to give up its data by using the Read Long command, but that was dropped from the ATA/ATAPI-4 specification more than a decade ago before being revived as part of SMART.
HDD technology has drastically changed in the 15-or-so years since SpinRite was created. If it ever had value, it certainly doesn't now and I suspect that any reports of it fixing modern HDDs are entirely coincidental and simply the result of SMART remapping.
"I'll disagree with the "completely pointless" on re-reads. Your OS already does it.' – Well, that's really handled by HDDs' onboard diagnostics which work independently from Windows to relocate data from bad sectors to good. If a manufacturer's own diagnostics tools – which are specifically designed to work its drives – cannot extract the data after multiple attempted reads, I very much doubt that 15-year-old SpinRite is going to be able to.
Again, the best practice when dealing with an ailing HDD is to image it in a manner that subjects it to as little stress as possible and then work with the image. This is exactly what data recovery companies do.
When your car starts spluttering, you either get it towed to the garage or drive it there slowly and carefully. What you don't do is take it for a few laps around the racetrack. Because that'd be likely to make the problem even worse, right?
I had an external USB hard drive that Defraggler told me was a mess when I planned to defrag it. Cannot remember the exact message.
None of the warnings had been given otherwise. I Immediately looked at the drive to get useful stuff copied. That was successful.
Spin Rite took a LONG time to finish destroying that drive. Since the info was probably duplicated elsewhere, I was not too concerned. It must have been close to the message you spoke about!
SpinRite's not a destroying tool. It's a repair tool. Not exactly sure what you were meaning to say.
My computer just told me my hard drive had failed. Not true…. windows 10 updates caused the issue. I ran diagnostics said hard drive fine.
These updates cause a lot of problems.
Leo:
The article brings up one concern of mine. I regularly B/U my W7 PC via Macrium Reflect. I do an image B/U.
Let's say my computer goes totally kaput.
Suppose I buy (used) the exact same model PC.
Would I be able to restore that image I saved?
Same question, assuming I got another W7 laptop, but not the exact same model.
Exact same model: yes. Different model: you would not be able to simply restore the image, but you would be able to restore your data from the backup after installing the OS and applications from scratch.
Macrium Reflect paid versions can restore images to dissimilar hardware. The free version cannot. I have done this several times, and it's worked all but one time. I believe this is also the case with most, if not all, other image backup programs.
It's not something I would ever rely on — reinstall from scratch is the more appropriate solution — but, yes, I realize that there are tools that try to provide this functionality. My concern is simply that there's just no way they can be 100% reliable.
Hey all,
Whether you have Macrium Reflect Free or purchased if the disk failure is just a bad sector (maybe the boot record or BCD), but the drive is otherwise still functioning and you have created a bootable Macrium Reflect Rescue CD/DVD or flash you can access the folders on the drive and copy what you want to another disk or flash drive using the file explorer on the rescue medium.
My back-up strategy: All my hard drives are mirrored on a second one. I start with two identical drives and then schedule Folder Clone to run every night (early morning). I sleep well at night. When 6T drives are available for
100 USD, it's a no-brainer.
Been using SpinRite for decades. Sadly it does NOT work with GPT formated drives. (One gets a mysterious 'MBR Followed by EFI error) so modern systems are out of SpinRite's 10+ year old wheelhouse until a long promised update occurs RSN.
Spinrite is Great for recovering and maintaining drives. Do agree it is a good idea to clone the drive first. Spinrite has never made a drive worse, and often has allowed it to boot and data retrieved.
When my hard drive totally failed I took the computer to Best Buy/Geek Squad. They couldn't get the data files from it. They recommended that I authorize them to send it to a data recovery service. That service charged $150 and ultimately saved almost all of the files. As I understand it, the service took the hard drive apart and put the recording media into their own machine. The Geek Squad then placed the recovered files on a new drive and installed it. Try it.
I'm glad you posted this article. Last week "After an Update" like D. Spencer had mentioned my computer said pretty much the same thing, but I thought it was a virus because of the wording:
"SMART Hard Disk Error"
"The SMART hard disk check has detected an imminent failure. To insure "not" data loss please backup the content immediately and run the hard disk test in System Diagnostics.
That last sentence isn't correct. It should be "no" data loss.
Then it goes on:
Hard Disk 1 (301)
F2 System Diagnostics
Enter: Continue Startup
For more information please visit: http://www.hp.com/go/techcenter/startup
So lo and behold, I go to visit the site and voila there is the correct wording:
On startup, you may see an error message like the following:
The SMART hard disk check has detected an imminent failure.
To ensure no data loss, please backup the content immediately and run the Hard Disk Test in System Diagnostics.
Last June I fell for the scam where it says your computer is infected, call this number, bla, bla, I did, and I almost lost everything, they even locked me out of my computer. I had a wonderful computer man hack into my computer and recover everything..Praise the Lord!!
So hence my concern with this message… Is it real, fake or a virus.
I'd be concerned with a misspelling like that. A misspelling in an error message is possible, but if it doesn't match up with the message on the screenshot in the computer's official website, I would be suspicious.
My comments seem to have been deleted. Any reason?